---
---
A Few of Our Biographies:
* Rasputin
* Bill Wilson ("Bill W.," founder of A.A.)
---
The Assassination of President Kennedy
*
History and Biography Reading Suggestions (Hundreds of 'Em, by Category)
Chinese Cooking in the U.S.:
A Short History
By Bob Frost
HistoryAccess.com, 2009
---
America today has about 41,000 Chinese restaurants, according to one trade magazine, a total that exceeds the combined national presence of McDonald's, Burger King, Pizza Hut, KFC, and Taco Bell. Journalist Jennifer 8. Lee makes an interesting point: "If our benchmark for Americanness is apple pie, ask yourself, how often do you eat apple pie? Now how often do you eat Chinese food?"
Globally, the number of Chinese eating establishments runs to the hundreds of thousands. Not every Chinese restaurant is good, but for popularity and delight, Chinese cuisine reigns supreme in the world, approached only by the dishes of France and Italy. British historian Eric Hobsbawm believes that the Chinese restaurant is the "most powerful cultural export of the east."
Here is a chronological history of Chinese cooking in the U.S. - in restaurants and homes - from the 19th century to the present day. (Canada is mentioned several times too.) The timeline also provides background on the Chinese struggle in North America - the complex context within which this cuisine found a new home.



A wok holding stir-fried vegetables and meat.
---
1820s - The first Chinese immigrants reach the U.S.
1848 – In Great Britain an author named John Davis publishes the first detailed English language description of Chinese cooking; perhaps a few copies make their way to the U.S.
1848 to about 1853 – The California Gold Rush. At least 20,000 Chinese citizens, mostly men, will arrive on America's West Coast between 1848 and the end of 1852 in search of what they call the Golden Mountain. (Tens of thousands more will follow in the 1860s and '70s as railroad jobs become available in the Sierra Nevada and other locales.) These immigrants bring with them, writes historian Hobsbawm, "skill, intelligence and enterprise (and the) capacity of this great people to survive and prosper." Some of the newcomers find employment as cooks in restaurants and in affluent California homes. The first Chinese restaurant in North America, named Canton, opens in San Francisco on December 10, 1849. Some early Chinese eateries serve Cantonese laborers and are known as "chow chows." By the early 1850s, writes gold miner William Shaw, San Francisco's "best eating houses" are Chinese, with dishes emphasizing the balancing of robust flavors, and vegetables that are cooked yet crisp. In the gold fields, Chinese miners enjoy surprisingly good cuisine; historian Jean Pfaelzer writes, "Ancient traditions of food preservation made it possible for Chinese miners to have a much more varied diet than white miners, who disdained the unfamiliar salted duck eggs, cabbage, and turnips, the dried fish and mushrooms, and the melons, squashes, and persimmons grown from seeds carried from China." (Pfaelzer is author of "Driven Out: The Forgotten War Against Chinese Americans" [2007]. For additional background on this period see "The Poker Bride: The First Chinese in the Wild West" by Christopher Corbett [2010].)
Mid 1850s through the '60s, '70s, and '80s – Gold peters out in California; jobs become scarce in some towns; the boom is over. White Californians worry that Chinese are "stealing" their work. This sentiment will be inflamed by the Long Depression from 1873 to the 1890s. Vicious anti-Chinese prejudice will proliferate on the West Coast, led by racist thugs such as labor leader Dennis Kearney and his Workingman's Party, based in San Francisco, who fulminate against the "Yellow Peril" and shout from street corners, "The Chinese must go! The Chinese must go!" (This is a creepy foreshadowing of Nazis bellowing "Jews out! Jews out!" in 1930s Berlin.) Chinese people in America are "oppressed, hated, ridiculed and from time to time lynched," writes Hobsbawm. In the midst of the fear and strife, Chinese restaurants lose a large share of their Western clientele. (A parenthetical note. As of June 1, 2008, Dennis Kearney was described at one large history Website as simply someone who "led workers in protest against unemployment and unjust taxes." A more accurate picture is available from Jean Pfaelzer's study, cited above.)
1869 - A golden spike is gently tapped into place in the Utah territory, linking the Union Pacific and Central Pacific Railroads. The railway construction project involved many Chinese workers (some of whom were hurt or killed, as were white workers). Chinese railway laborers generally ate well, notes historian Pfaelzer: "While white workers ate beans, potatoes, and occasionally beef, cooks for the Chinese prepared foods imported from China: along the tracks, porters carried barrels of fried oysters, dried bamboo shoots and mushrooms, vegetables, pork, poultry, rice, salted cabbage, dried seaweed, sweet rice crackers, and dried fruit. As white workers drank cold water, often polluted from human-borne parasites, the Chinese drank boiled and purified tea."
The Central Pacific Railroad in the Sierra Nevada, watched (foreground) by some of its Chinese builders.
---
Sidebar: "Basics of Chinese Cuisine"
---
1875 - The Union Pacific Coal Department hires Chinese men as strikebreakers at its Rock Springs mines in the Wyoming territory. As a result, tensions will fester in the area for years between whites and Chinese, culminating in the murder of 28 Chinese in 1885. No one is ever convicted for the killings. The massacre will lead to other acts of violence in the West against Chinese.
1877 - Media racism: a magazine cartoon shows immigrants from different nations eating Thanksging Dinner; a Chinese man is shown eating a rodent.
1882 – Years of racist agitation in America culminate in the Chinese Exclusion Act, which places major restrictions on immigration. The act is intended to last 10 years but will be enforced until 1943. The number of Chinese in the U.S. in the 1880s is about 100,000 - one-fifth of one percent of the American population. (Most female Chinese immigrants in the second half of the 1800s are forced into prostitution, servicing many men each night, and usually dying young, and alone, of venereal disease.)
1884 – In a scholarly article in Britain, a writer named John Dudgeon declares that the Chinese diet may be more healthful than the heavy-on-meat diet of affluent people in the West. (The Gilded Age admires bodily heft. See here for a short item on Diamond Jim Brady and his daily food intake.)
1887 - The U.S. Navy establishes a coaling and repair base at Pearl Harbor in Hawaii. In coming decades, many thousands of American military men and women will patronize Hawaii's Chinese restaurants and bars. (See, for example, scenes in the 1953 film "From Here to Eternity" [set in 1941] and the James Jones novel upon which the film is based.) Chinese first came to Hawaii in the late 1700s to work in the sugarcane fields.
Late 1800s – The U.S. press first mentions chop suey – meat and vegetables cooked quickly, with a serving of rice. The origins of the dish are uncertain; some sources say it comes from the Taishan region of Guangdong Province in southeast China (Guangdong is the home of Cantonese food). However, author Jennifer 8. Lee, among others, is confident that chop suey is an American invention. In her charming book "The Fortune Cookie Chronicles: Adventures in the World of Chinese Food" (2008), Lee mentions a San Francisco-based Chinese chef named Lem Sen, who, in 1904, will hire a lawyer to try to establish his role in the dish's invention some years earlier. Lem Sen is not successful in his legal effort but his case is regarded as compelling. Also during these years, chow mein will appear in the U.S.; it's essentially chop suey with noodles rather than rice. "Chop Mein" will become a nickname for Chinese food.
1892 - Passage by the U.S. government of the Geary Act of 1892, which adds onerous new provisions to the Chinese Exclusion Act of 1882. In a seminal act of U.S. civil disobedience, tens of thousands of Chinese residents protest the act, refusing to carry the mandated identity card.
1896 – A Chinese official named Li Hongzhang (Li-Hung-Chang) visits America. Public interest in his visit is high.
Early 1900s – Chinese restaurants in the U.S. slowly begin to proliferate, with a new generation of customers willing to try the cuisine. The Los Angeles phone book in 1903 lists five Chinese restaurants; in 1923 the number is 28; in 1941, 73. (Today, the number is in the thousands. According to authors Benjamin and Christina Schwarz, writing in The Atlantic in 1999, the best Chinese food in America can be found in the San Gabriel Valley east of downtown Los Angeles – "China Valley," as it's called by the locals - in such suburbs as Monterey Park, South Pasadena, Alhambra, Rosemead [headquarters since 2003 of the thriving chain Panda Express; see "1983" below], San Marino, Rowland Heights, Hacienda Heights, West Covina, City of Industry, Walnut, Arcadia, Diamond Bar, and Temple City.)
1920 - A new novel by Sinclair Lewis, "Main Street," set in the 1910s, mentions chow mein, which is unfamiliar to most of the book's characters. The book is a huge bestseller - according to Lewis biographer Mark Schorer, its success is "the most sensational event in twentieth-century American publishing history." (That assessment is subject to debate.) The relevant passage:
Before they were quite tired of the concert Carol led them in a dancing procession to the dining-room, to blue bowls of chow mein, with Lichee nuts and ginger preserved in syrup. None of them save that city-rounder Harry Haydock had heard of any Chinese dish except chop sooey. With agreeable doubt they ventured through the bamboo shoots into the golden fried noodles of the chow mein; and Dave Dyer did a not very humorous Chinese dance with Nat Hicks; and there was hubbub and contentment.
1920s - Founding of the Oriental Chow Mein Company in Fall River, Massachusetts.
1920s - Anna May Wong becomes Hollywood's first Chinese-American film star. She will write a preface to the 1942 work "New Chinese Recipes" by Mabel Stegner and Fred Wing, one of the first Chinese cookbooks published in the U.S., sold during World War II to raise money for United China Relief.
1922 - La Choy Food Products Inc. is founded in Detroit to sell canned staples of Chinese cuisine. (The canning industry grew enormously during the First World War.) A history of La Choy can be found here.
1924 – New restrictions are placed on Chinese immigration to the U.S. as xenophobia runs rampant in the wake of the First World War. The regulations are enacted on the grounds that Chinese are "unassimilable."
1931 – Pearl S. Buck publishes "The Good Earth," an admiring novel about China that becomes a bestseller. The book, which mentions food several times, helps propel a shift away from the xenophobia of the '20s. The film version of "The Good Earth" will be released in 1937 and become a major hit. (The great Anna May Wong [see "1920s," above] fails to land a role in the movie, losing out to non-Asians.) Buck wins the Nobel Prize for Literature in 1938. "The Good Earth" is chosen in 2004 for Oprah's Book Club. A review of the book appears here.
1937 – La Choy expands in Detroit, building a 60,000-square-foot addition.
1938 – The first Trader Vic's restaurant opens, in Oakland, California, featuring Polynesian/Asian food.
1940 – A testimonial from Middle America: the St. Louis Post-Dispatch declares that the cuisine of China is "among the best in the world."
First Half of the '40s – As the defense industry expands during the Second World War, population and income zoom upward in the San Francisco Bay Area and Southern California (and elsewhere); in the Bay Area, population will grow by 500,000 over the five-year period 1940 to 1945. Restaurants in various Chinatowns enjoy increased patronage; the staples are chop suey, chow mein, and egg foo yong. New establishments open, including The Great China Restaurant in Oakland (1943-1961) pictured below. (Photo courtesy Oakland Public Library and William Wong, author of "Images of America: Oakland's Chinatown" [2004].)

The Great China Restaurant, 723 Webster St., Oakland, California, in the post-World War II era. The sign says "Great China" above the coffee cup.
---
1943 - The U.S. government repeals the Chinese Exclusion Act (see 1882). The action is spurred in part by the fact that China is an American ally in the war against Japan.
1945 – The end of the Second World War marks a turning point for Chinese cuisine in the U.S. - "a fairly clear dividing line," writes historian Sylvia Lovegren, "between the old taste for 'Chop Mein' and a growing culinary sophistication."
1945 – Publication in the U.S. of "How to Cook and Eat in Chinese" by Buwei Yang Chao, with a foreword by Pearl S. Buck. This is a seminal work - for example, it's the first English language cookbook to use the phrase "stir-fry," according to historian Lovegren. The book will be mentioned in future editions of "The Joy of Cooking," the kitchen bible for many Americans.
1947 - Jeno F. Paulucci, the son of Italian immigrants, starts the Chun King Corp. in Grand Rapids, Minnesota. Within weeks the company is selling 300 cases of canned chow mein per day.
1947 – Publication of "Pigtails and Gold Dust" by Alexander McLeod, a history of San Francisco's Chinatown from 1848 to 1906. The book contains a few useful details about Chinese cuisine of the era. However, the work is dotted with casual racism, such as ridicule of the sight of a Chinese man eating rice. One reviewer, journalist and historian Carey McWilliams (1905-1980), a great scholar of California life, notes the racist tone of the work and seizes the opportunity to ask writers for better efforts, noting that "nearly everything that has been written about the Chinese" in America, including this work, is "befogged" with the "standard....fable" of the Chinese-American experience: "opium dens, mysterious passageways, joss houses, the origin of chop suey, the traffic in white slaves, tong wars...." McWilliams urges writers to dig deeper, to produce first-rate studies of the full breadth and depth of early Chinese life in the U.S., including "the mechanism, the politics, and the function of prejudice." Such work will begin appearing in the 1960s and '70s with the dramatic expansion of the field of social history propelled by new groups of Americans becoming historians.
1949 – The Communist takeover in China generates a wave of emigration. Many chefs depart. Gastronomy in China, like many aspects of culture, "suffered in the Maoist years," notes journalist Fuchsia Dunlop. The Communists will nationalize private business in the first years of their rule; this process is "remembered as the start of a long decline for China's restaurants," writes Dunlop. Among the emigrants during this period is a young girl who, in 2009, as Eileen Yin-Fei Lo, will publish "Mastering the Art of Chinese Cooking," regarded as an exceptional, authoritative work.
1950s – La Choy launches its "family pack," a 34-ounce package of chop suey or chow mein aimed at a family of four.
Early 1950s - As scientist Jonas Salk labors on a polio vaccine in a Pittsburgh laboratory, he fuels his mind and soul with a great deal of Chinese food, ordering the same lunch most workdays at Bamboo Garden on Forbes Avenue - won-ton soup, an egg roll, chicken chow mein, and rice. Daily cost: $1.35.
1952 – Helen Brown publishes "The West Coast Cook Book" which includes a number of recipes for Chinese cuisine and introduces many Americans to bean sprouts.
1958 - Ashley Montagu, the anthropologist and feature writer, publishes an article in House and Garden titled "Are We Forgetting How to Eat?", contributing to the idea - rather new to many Americans - that dining can be a wonderful art. This concept proliferates gradually in the U.S. in the late 1940s, '50s, and '60s, and spreads rapidly in the '70s. International cuisines, including Chinese, will contribute to the revolution in culinary consciousness.
1959 to 1973 – "Bonanza" on NBC television, set in the Old West, includes the character Hop Sing, chef for the Cartwright family, played by Victor Sen Yung. Wikipedia.org comments, "The character (of Hop Sing) may have promoted some Chinese-American stereotypes (but) he is not commonly cited as an offensive use of an Asian character." Several "Bonanza" episodes mention prejudice against Hop Sing, and at least one episode explores the topic with poignancy - "A Lonely Man," airing in January of 1972, wherein Hop Sing and a white woman named Missy Hamilton fall in love but are not allowed to marry. The TV show "Ponderosa," a "Bonanza" sequel that airs from 2001 to 2002, will feature a rather different Hop Sing, with Gareth Yuen's portrayal combining the personas of chef, counselor, and herbal healer. In the 1990s, "Hop Sing" will be the name of a Chinese restaurant on the TV show "Seinfeld." See here for more about the Bonanza character.
1961 - ABC television airs an episode of "The Rifleman" about a battle of the good guys (Lucas McCain [Chuck Connors] plus his buddies) against anti-Chinese prejudice in the Old West. The town marshal, Micah Torrance (Paul Fix), one of the good guys, comments in his gruff-but-hearty fashion, "Once had a Chinese cook in Montana took better care of me than my mother."
1963 - On February 11 of this year, Julia Child debuts her show "The French Chef" on public TV. The knowledge, passion, and wit that Child brings to the "simple" acts of properly cooking an omlette and spit-roasting a chicken - and to the idea of fresh ingredients - are powerful elements in America's expanding food and wine palate. For Child's love of Chinese food see "1974" below. (Child can reasonably be seen as an important figure in the emerging feminist movement. Interestingly, "The Feminine Mystique" by Betty Friedan is published the same month as the launch of Child's show.)
1964 - In New York City, the first Benihana restaurant opens, serving Japanese food, an indication of rising interest in Asian cuisine and in new ways of eating. (The full name of the first restaurant is Benihana of Tokyo.) A favorable review of the establishment in 1965 in the New York Herald Tribune will put the place on the road to significant success; today, Benihana has about 80 restaurants globally.
1965 – The Immigration and Nationality Act passes Congress and is signed by President Johnson. Taking effect on July 1, 1968, it abolishes the quotas of 1924 and increases the number of people allowed into the U.S. from the People's Republic of China and Taiwan.
1966 - A horror story accelerates in China: the Cultural Revolution, propelled by Mao Zedong's dictate to "crush those persons in authority who are taking the capitalist road." This includes master chefs, who are denounced, vilified, and sometimes killed by apprentices and Red Guards. Many chefs flee to Taiwan and North America.
1967 - The Ideal Toy Company introduces a party game called "Chop Suey"; players pick up plastic food pieces with chopsticks.
1968 - Publication of "The Cooking of China" by Emily Hahn, part of the "Foods of the World" series, a Time-Life effort that's a key contributor to America's growing culinary knowledge. Also published this year is "The Thousand Recipe Chinese Cookbook" by Gloria Bley Miller. Also this year, Dr. Robert Ho Man Kwok, writing in The New England Journal of Medicine, offers the first mention in the scientific literature of what will become known as "Chinese restaurant syndrome" (CRS); he describes a feeling of numbness after eating Chinese food accompanied by weakness and palpitations. In time, the food additive monosodium glutamate (MSG; sold in vast quantities as "Accent") will be linked in many people's minds to the syndrome. No iron-clad scientific evidence is ever established identifying the substance as the culprit. Signs saying "No MSG" will soon appear in some Chinese restaurant windows.
1960s and '70s – The Chun King company broadcasts a 30-second TV commercial featuring a "typical" American family (white, middle class, semi-bored) sitting around the dinner table, disdaining mashed potatoes, waiting for culinary magic to be produced by Mom, who offers chicken chow mein, thus winning their eternal devotion, or at least 30 seconds of it. The ad's tagline is, "Chun King....something different....for a change!" Meanwhile, Chun King's competitor, La Choy, runs a TV spot for chicken chow mein with the perky tag, "La Choy makes Chinese food swing....American!" The ad includes a woman of Chinese heritage saying (and we quote verbatim), "For centuries, Chinese cooking considered only for chosen few. But now...." The music kicks in and the big pitch commences. Her remark is not only mildly insulting to the millions of Chinese Americans whose English is perfect, it's historically absurd. Chinese cuisine derives much of its flair, economy, convenience, and speed from its roots in the masses. For example, the need in China to conserve firewood contributed to the evolution of stir frying.
Late 1960s and early '70s – Sichuan and Hunan dishes gain popularity in the U.S. via new restaurants. Meanwhile, moo shu pork, a dish from the north of China, also becomes a trendy menu item (shredded pork, scrambled eggs, mushrooms, sesame oil, and other ingredients).
1971 - One of history's most significant cases of appendicitis occurs in July of this year. James "Scotty" Reston of the New York Times, the most influential print journalist in the country, gets sick in Beijing and receives an emergency appendectomy at a local hospital. His post-operative pain is effectively treated with acupuncture and herbs. He subsequently files a report on his experience. This event, widely covered in print and on TV, is a profound moment in the evolution of Western awareness of things Chinese. (See also "1979" below.) Also this year, Alice Waters opens Chez Panisse in Berkeley, California. While not Chinese, the restaurant, with its commitment to absolute freshness, is a cornerstone of America's new culinary awareness. Such items as fresh bean sprouts rather than canned become essential in many households.
1972 – President Richard M. Nixon visits China in February. He's shown on TV and in the print media dining in Beijing with chopsticks. Nixon's trip sets off a boomlet in the West in Chinese food and fashion; over the next two years more than 25 Chinese cookbooks will be published in the U.S. and Great Britain, including the outstanding "The Chinese Cookbook" by Craig Claiborne and Virginia Lee. (Claiborne, a New York Times journalist, is probably the best-known food writer in America during this period.) Victor Sen Yung, who played Hop Sing on "Bonanza," publishes a Cantonese cookbook in 1974 titled "Victor Sen Yung's Great Wok Cookbook."
Also in 1972 - Premiere on ABC TV in October of "Kung Fu" starring David Carradine as Kwai Chang Caine, the orphaned and wandering son of a Chinese woman and an American man. The show will run three seasons, until April of 1975, and win a number of awards. One of Caine's teachers, Master Kan, is played by Philip Ahn, who, with his sister Soorah, opens a very popular Chinese restaurant in the 1950s called Phil Ahn's Moongate, in the Los Angeles area at 8632 Van Nuys Blvd., specializing in Cantonese fare. Born in California in 1905 of Korean ethnicity, Ahn plays Chinese men in a number of films including "Daughter of Shanghai" (1937) with Anna May Wong and an uncredited role as a revolutionary officer in "The Good Earth" (see "1931" above). He also gets a lot of work playing Japanese men. His IMDb biography is here.



President Richard M. Nixon dines in China in 1972 with Premier Zhou Enlai (to Nixon's right) and aides.
---
1974 – The New Yorker profiles Julia Child, America's most famous culinary master by dint of "The French Chef" (see "1963" above). The magazine article, by Calvin Tomkins, includes a description of Child's visit to Kan's, a Chinese restaurant in San Francisco, where she dines happily on barbecued spareribs, fried squid, diced-winter-melon soup, lemon chicken, asparagus with beef, bean cake with barbecued pork, and noodles. "Julia Child does not do any Chinese cooking herself," writes Tomkins, "because she feels that one lifetime is hardly sufficient to encompass the cuisines of France, her specialty, but she loves to go to Chinese restaurants." Tomkins quotes Child saying she would be "perfectly happy" eating only Chinese food.
1976 - A Chinese immigrant named Misa Chang opens the Empire Szechuan Garden restaurant in Manhattan, at Broadway and West 97th St., and soon thinks up a great idea - free delivery. The restaurant thrives. Though by no means the first free delivery of food - not even of Chinese food - Chang's massive success "catalyzed the delivery frenzy" for Chinese cuisine in Manhattan, writes Jennifer 8. Lee. New York's obsession with delivered Chinese food will become part of mainstream American culture on February 20, 1997, with broadcast of "The Pothole" episode of "Seinfeld," wherein Elaine Benes (Julia Louis-Dreyfus) encounters difficulty getting delivery of Supreme Flounder, and to expedite the matter, takes up residence in a janitor's closet. (Chinese food is a significant ongoing theme in "Seinfeld"; see also, for example, the episode titled "The Visa," first broadcast in 1993.)
1978 – Martin Yan, a native of Guangzhou, China, son of a restaurateur, debuts "Yan Can Cook" on a TV station in Calgary, Alberta, Canada. The show begins airing on U.S. public television in 1982.
1979 - The summer of '79 marks the first visit to China by an organized group of American physicians who practice traditional Chinese medicine. This is a key event in the West's expanding awareness of time-honored Chinese ideas about health (including approaches to cooking and dining). One member of the delegation is Dr. Timothy J. Smith, based in California, a pioneer in U.S. acceptance of acupuncture. (See also "1971," above.)
1980 - Debut of the first Manchu Wok restaurant, in Peterborough, Ontario, Canada. The chain today has some 200 stores.
1983 - Opening of the first Panda Express restaurant, in Glendale, California. "PE" as it's soon known (or just "Panda") expands quickly; by 2010 it will have more than 800 outlets in the U.S., making it the world's largest Chinese restaurant chain. (The chain's forerunner, an individual restaurant called Panda Inn, opened in 1973 in Pasadena.) PE gets lambasted now and then for serving Chinese food that's too "Americanized" - the Americanization of Chinese cuisine is a popular topic for kvetching in certain foodie circles. (See also "2012" below.) The word "panda" will be adopted by any number of non-Panda Express restaurants; in the 1990s, TV's "Seinfeld" will feature the fictitious "China Panda."
1984 – Ken Hom achieves prominence in Great Britain, and later in other countries, with his TV series "Ken Hom's Chinese Cookery"; his accompanying cookbook will sell more than one million copies. "For us," says Hom of himself and his fellow Chinese, "food is more than a passion, it is an obsession, and good eating is believed to be essential to good living." Hom's 1987 book "East Meets West" will offer a pioneering fusion of ingredients and techniques from China, the U.S., and France, influenced by the experimental food scene in the San Francisco Bay Area. Fusion, in a variety of forms, will become a major trend in Chinese restaurants in North America in coming years.
1989 - Debut of the first Pick Up Stix restaurant, in Rancho Santa Margarita, California. The chain today has some 125 locations in the western U.S.
1993 - The founding, in Arizona, of the chain P.F. Chang's China Bistro. The company will get priceless publicity starting in 1997 via mentions on the animated series "South Park" which debuts that year. More than 130 P.F. Chang outlets dot the U.S. today. It's an upscale, sit-down restaurant.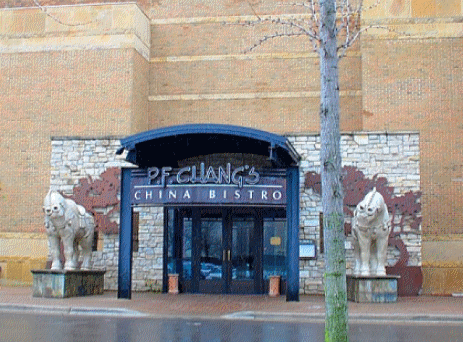 P.F. Chang's China Bistro on Big Beaver Road in the Detroit area.
---
1994 - Premiere of the film "Eat Drink Man Woman" directed by Ang Lee, set in Taiwan, featuring gorgeous scenes of cooking and dining.

A scene from "Eat Drink Man Woman."
---
1995 - Publication of the novel "The Hundred Secret Senses" by Amy Tan, in which a character named Kwan communes with the spirit world, learning that a great many people who choose to be reincarnated wish to become Chinese. And why? "Chinese food is the best in the world," says Kwan.
2001 - Creation of the Pei Wei Asian Diner chain, based in Arizona, an offshoot of the P.F. Chang empire and an effort to compete with Panda Express. More than 130 Pei Wei outlets can be found today in the U.S.
2003 - Opening of Zen Fine Chinese Cuisine in a suburb of Vancouver, Britsh Columbia, Canada, picked in 2008 by Jennifer 8. Lee as "the world's greatest Chinese restaurant outside Greater China as of the early twenty-first century." What clinched Lee's pick? How did she choose from among many candidates? "Zen's half-price special was a bargain," she writes, "an eight-course gourmet meal with squab and half a lobster. Never forget that 'bang for your buck' is a hallmark of Chinese food around the world." Sam Lau, owner of Zen Fine Chinese Cuisine, leverages Lee's endorsement by splashing it across his Website and by opening a new establishment in 2010 (same name; it replaces the original one). Here are a few restaurants visited by Lee in her quest for the champ. A parenthetical note: The Vancouver area has been a mecca over the years for chefs emigrating from China, with an especially large influx in the 1990s as Hong Kong prepared to shed its status as a British Crown Colony and become part of China (this occurred in 1997). During the '90s Vancouver received the inelegant (and perhaps xenophobic) nickname "HongCouver." "The Hong Kong immigrants were really a new kind of Canadian," says Henry Yu, a history professor and administrator at the University of British Columbia. "They were educated, spoke English, and were middle class or wealthy. They weren't going to start out as pizza delivery men and working in Chinese laundries. They expected to be first-class citizens, they wanted to live in the best neighborhoods, wanted the best schools for their kids. It changed Vancouver for the better, it's made us more global, more Asian. But it wasn't always an easy process." More on Henry Yu here.
Also in 2003 - Premiere of the documentary film "Chinese Restaurants: Song of the Exile" by Toronto-based filmmaker Cheuk Kwan. The work debuts at the Hong Kong International Film Festival. It's part of a 15-episode saga with the overall title "Chinese Restaurants" that's released in a phased roll-out from '03 through '05. To make "Chinese Restaurants" Kwan and his cinematographer spent four years ('00-'03) traveling globally, visiting Argentina, Cuba, Israel, Norway, South Africa, etc., using the restaurants, says one review, "as a universal setting to reveal how immigrants integrate into new societies and also maintain a singular pride and strength in their own culture." Kwan tells the South China Morning Post in 2004, "The Chinese restaurant is the icon of any Chinese settlement. It's the easiest business for an immigrant to start. This then becomes a window into the community. And, of course, food is interesting because everybody is into food, and I thought it was the perfect motif to explore the Chinese diaspora. The cuisine is always evolving and it's a metaphor for Chinese assimilation. Yet, it also retains the Chinese cultural uniqueness." Kwan continues, "In every country where I go, the food is converted and merged slightly with the local cuisine - out of necessity and inventiveness - so you see a lot of cross-cultural influences. For example, the national dish of Madagascar is Soupe Chinoise or Chinese soup. But it's essentially wonton soup. Everybody there eats that." He continues: "People say, 'You're not really Chinese' and I reply, 'Of course I'm not. I was born in an English colony (Hong Kong), grew up in another colony (Singapore), and then moved to three other countries (Japan, the U.S., Canada).' Plus, I'm not from the mainland, so I have even less nationalism. I basically consider myself an internationalist. Yet, I crave Chinese food. It was the big thing in my formative days in Hong Kong and Singapore. It's my comfort food." Kwan's 15 episodes are contained on five DVDs: "Song of the Exile," "On the Islands," "Three Continents," "Latin Passions," and "Beyond Frontiers." His Website is here. A Q-and-A interview with him is here. The IMDb listing for "Chinese Restaurants" is here and purchase information is here.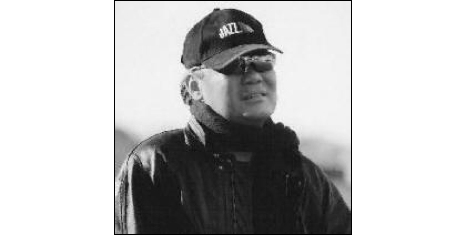 Cheuk Kwan, filmmaker.
---
2004 - The Museum of Chinese in America (MOCA) in New York City puts on a special exhibit titled "Have You Eaten Yet?" about Chinese restaurants in the U.S. The show will run in New York from September, 2004, to June, 2005, and will travel the country to the end of 2006. An article by Cynthia Lee, one of the exhibit's co-creators, can be found here.
2008 - Global headlines result when Beijing officials remove dog meat from menus in official restaurants of the Summer Olympics. Many North Americans and Europeans are shocked that dog was available to begin with. Dog meat, known as xiangrou, is occasionally eaten in China for its purported healthful qualities but is essentially not available in North America according to a leading food expert. Dog is also eaten in Vietnam and the Philippines, reports the BBC.
2010 - "Car Talk" on National Public Radio features a caller describing two simultaneous occurrences: car trouble and a craving for Chinese take-out. "Nothing like stress to make you long for Chinese food," notes co-host Ray Magliozzi. Also this year, The New Yorker publishes a profile of Szechuan chef Peter Chang.
2011 - East Bay Express, published in the San Francisco Bay Area, runs a cover story by Hannah Dreier titled "The Great Shark Slaughter" about the ecological harm and animal cruelty perpetuated by people who eat a classic Chinese dish - shark fin soup.
2012 - On February 15, Jeremy Lin of the New York Knicks appears in a TV graphic with a fortune cookie. Is this racial stereotyping? Opinions differ.
Also in 2012 - On February 16, President Obama visits a Chinese restaurant in San Francisco, the Great Eastern at 649 Jackson St., apparently not aware that the place offers an ecologically heinous dish, Braised Superior Shark's Fin Soup. (See "2011" above.) So why doesn't he know? Shoddy staff work, most likely. Naturally the press is delighted and launches a feeding frenzy, noting that: (1) Obama signed the Shark Conservation Act in January; (2) California outlawed the sale of shark fin products in 2011; (3) the San Francisco Bay Area is a hotbed of environmental consciousness; and (4) the Monterey Bay Aquarium, down the road a piece, is probably the world's most influential organization at raising awareness about sharks. However, with all of that said, no laws are broken at the Great Eastern - California restaurants are allowed to sell their existing shark fin stocks until July 1, 2013. (Just how many fins do Chinatown restaurateurs have stashed in their storerooms, anyway?) Obama doesn't order soup, sticking to dim sum. The net results of the presidential culinary adventure: a bit of damage to his reputation, a massive amount of attention for shark conservation, and a take-out order of excellent dim sum. (Not everyone agrees that the Great Eastern is truly worthy; SF Weekly calls the restaurant's food "middling.")
Also in 2012 - On February 22, the program "All Things Considered" on National Public Radio runs a significant feature about the Panda Express chain (see "1983" above). The story, reported by Neda Ulaby, is introduced by host Melissa Block thusly: "Fair or not, (Panda Express) represents what Chinese food has long meant to many Americans - gloppy orange chicken or bland chow mein." The piece notes that Panda is going more up-scale and incorporating other Asian cuisines into its repertoire including Korean and Thai. A transcript of the piece can be found here. So. Panda. Gloppy? Bland? A friend of this Website, Libby Frost, a St. Paul resident and choosy eater, is a frequent visitor to a Panda Express located in the Minnesota Marketplace, a food court at Coffman Memorial Union on the Minneapolis campus of the University of Minnesota ("the U") where she works. Her review: "The food at Panda is definitely better than at some Asian restaurants where I've eaten in the Twin Cities. At some Asian places the vegetables are canned, like that little corn, and the mushrooms. At Panda the vegetables are fresh and not over-cooked - for instance, the broccoli is bright green and crisp. Also there is a good variety. I love the walnut shrimp, I get it about once a week. Panda is by far the most popular of all the restaurants in the food court. Sometimes there have been at least 50 people in front of me in the line - someone has to put up lane markers, like at airports. I will add, one time I bought orange chicken at a different Panda, at a mall, and it wasn't nearly as good as the food court's. Part of the reason the quality is so high at the U's Panda is because they sell so much; it doesn't sit for so long." (Editor's Notes: [1] Orange chicken is a lightly sweetened fried chicken dish. [2] See here for more on Panda Express. [3] Coffman Union at the U was also a dining mecca in the 1960s and '70s. In the basement you could find about a dozen vending machines distributing a variety of items including canned goods labeled as "milkshakes." Furnishings consisted of a number of long communal tables, tiny chairs, and lots of fluorescent lighting.)

Panda Express at the University of Minnesota,
complete with lane markers, mid-afternoon on
February 24, 2012. (Photo by Libby Frost)
---
Award-Winning Chinese Restaurants
Chinese Cooking Sidebar:
Basics of Chinese Cuisine

An excerpt from the 2002 book "China to Chinatown: Chinese Food in the West" by British historian J.A.G. Roberts.

---

China and its provinces. (Also shown: Taiwan, a separate nation.)
---
"Chinese food" denotes not a single cuisine, but a number of regional cuisines. These are usually defined as the northern cuisine, centred on Beijing (Peking) and Shandong province, the eastern cuisine of Shanghai and the lower Yangzi valley, the western cuisine, in particular associated with Sichuan province, and the southern cuisine, often described as Cantonese, from Guangzhou (Canton). Sometimes the food of Fujian province, in the south-east, is considered to amount to a separate cuisine. The northern cuisine tends to use wheat or millet rather than rice – Beijing duck is traditionally served with pancakes made from wheat flour. Another northern dish, Mongolian hot-pot, indicates that mutton is more commonly eaten in the north. The eastern cuisine has a reputation for gourmet cooking, with red-cooked dishes and delicacies such as Nanjing pressed duck. Sichuan cooking is often spicy. Typical dishes include hot and sour soup, smoked dishes and food cooked in sesame coil. Southern cooking is very varied, with fish an important ingredient. This region is also famous for dim sum (dianxin), snack foods composed of a filling of chopped meat, fish or vegetables in a dough or thin wrapping and steamed or deep fried.
Of the many cooking methods employed by Chinese cooks, five may be described as characteristic of Chinese cooking. These are stir-frying, red-cooking, clear-simmering, steaming and cooking drunken foods. Stir-frying is economical of heat, which has always been a consideration in a country where fuel is scarce. The food to be cooked is shredded or sliced and cooked rapidly thereby preserving flavour. Red-cooking involves the cooking of meat in a broth of water, soy sauce, sugar and other ingredients, which gives it a deep brownish colour. Clear-simmering is similar to red-cooking, but soy sauce is not used, and the meat is only lightly seasoned. Steaming is used not only for meat and vegetable dishes, but also for pastries and desserts, in which case it may replace baking. As with stir-frying, steaming is economical of fuel and the food retains is flavour. Drunken foods are meat or fish cuts which after cooking are steeped in wine or sherry for several days....These cooking methods call for the use of a variety of tools and utensils. The most important tool is the knife or cleaver, which has a rectangular blade and a wooden or bamboo handle....The other two indispensable utensils in the Chinese kitchen are the wok and the steamer. The wok, which is typically made of cast iron, which conducts heat rapidly and evenly, is ideal for stir-frying, but can be used for many other forms of Chinese cooking. Basket steamers, traditionally made of bamboo, can be stacked as high as three or even five layers and may be large enough to cook several dishes in one basket.
-The End-